Imagine reading this in the newspaper one day:
"The men accused of assaulting a bank office earlier this year, was today freed of all charges by the court. 'It's not possible to establish that the bank was in, according to the law, a vulnerable condition when the men took large amounts of money from it. Nor is it possible to prove any lack of consent'
According to the court, there are several factors to consider regarding the alleged assault. One is the bank's reputation, and prior history with money. It's well known that they keep cash there. It's even been advertised. And they should know what people are like – most like easy money. The men working in the bank wear expensive suits and watches. They should keep in mind what kind of signals they are sending. It's very unadvisable to tempt your surroundings like that. Besides, they didn't resist the transaction enough, just handed over the money and kept quiet. They didn't alert anyone until after it was all over. That could be seen as a sign of consent.
There is also word against word in this case. The bank claims that it was in a vulnerable condition, while the men claims that the bank knew what it was doing, and gave them the money voluntarily, and that the bank had been very forthcoming earlier, handing out money to several other customers.
'It can be very confusing in situations like this', the court says, 'when the bank lend money to a lot of people. It's not up to the court to decide about personal disagreements about consent.'
Sexual assault is not about a lot of things we think it is about.
It is not an act of impulsive, uncontrollable desire; it is a premeditated act of violence (research shows that more than half of the rapes are planned).
It's not about sex. If someone hit you with a shovel, you wouldn't call it gardening. It's about psychological needs, not bodily ones. The perpetrators aren't horny – they need to feel power, control, domination, and feeling superior to women.
It's not about strange men hiding in the bushes. 4/5 of rapes were committed by someone known to the victim. Often in a familiar environment.
It's not about how women dress or behave. It's about the attitudes and values among men.
Rape and sexual assault may be among the worst things men do to women, but it's definitely not the only thing. The gender gap, the glass ceiling, gender inequality at home and at work, belittling, master suppression techniques, sexism, harassment, mansplaining, dick pics, dirty socks on the living room floor… it's a very long list. But even if these things are considered to be women's issues, they are not. Women certainly get the short end of the stick, but the reason for it can be found between the ears of men.
There's a forgotten tragedy behind rape. One where men are reduced to testosterone-bags with no free will (but 'not all men', of course), with an untamable sexuality much like a loaded gun with the safety off – be very careful with it, or you may get hurt. One where men have to assault, degrade, and humiliate women in order to keep some imaginary position in a made-up hierarchy. One where men are trapped inside a lie about what it means to be a man.
Not that long ago women saw through the lie they were trapped in, and rewrote and updated the 'What it means to be a woman' manual. They got sick of being seen as some second-class humans, and empowered themselves. They want a very simple and natural thing – that men and women should have equal rights and opportunities. That the world should look the same no matter what you have between your legs. As we can see it's still very much a work-in-progress. But not because of lack of efforts from the women. But because the general attitude from us men is along the lines of "umm… what..?" When the train to gender equality left the station, the women was already on board and having drinks in the dining car, while us guys got left behind at the station, obviously too busy telling blonde jokes and sending dick pics to notice things were changing.
And things have certainly changed. But not as much for men as for the rest of the world. We live in the past. We carry around beliefs and ideas as relevant in 2016 as a Betamax videocassette. We are the flat earth society of gender equality. Our minds run on Windows 3.11. Our attitudes are obsolete. We desperately need to up upgrade to a new masculinity, because the old one stinks like yesterday's diapers. We can stop everything from rape to manspreading simply by throwing out outdated ways of seeing the world and the people in it. So let us.
The material here is taken and (badly) translated from my Swedish book "På Y-fronten intet nytt – jakten på den nya mansrollen", roughly translated to "All quiet on the Y-front – in search of a new masculinity". Published on this day ten years ago. Unfortunately, still relevant it seems…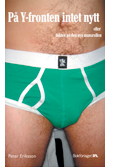 Oh, and guys, if this whole consent thing seems confusing, it's really not. Just watch this:

Copyright ©2015 Emmeline May and Blue Seat Studios
Listening to: Killswitch Engage
Reading: Matt Ruff: Lovecraft Country
Watching: Broadchurch
Drinking: Havana Rum Coffee